An Interview with Mike Ingram of Ingram Engines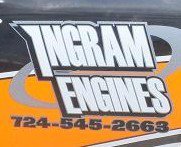 We would like to introduce another of our Engine Builder experts. Mike Ingram, located in Kittaning, Pennsylvania, started Ingram Engines in 1987. As a Crate Rebuilder, his shop put out 86 crate engines last year. We are thrilled that he has agreed to be an expert in our forum. Mike graciously took some time out of his busy schedule to talk with us and answer some of our questions.
CI: How did you get started building race engines?
MI: I started my shop rebuilding street engines and daily drivers. Shortly thereafter, I started doing work for guys who were racing at Lernerville Speedway. I saw the market moving to specialization, so I decided to focus on performance engines.
CI: What makes your shop unique?
MI: We do all of our machining in-house, including block work and cylinder heads.
CI: What types of engines do you work on?
MI: I do some drag and street engines, but most of my work is for oval track racing. For the daily drivers, very few are being rebuilt anymore. Components have been improved so much that they last longer than they ever did before.
CI: How long have you been rebuilding Crate Engines?
MI: I was the first rebuilder in Pennsylvania. I think it has been about 5 years or so.
CI: For which series are you an Approved Engine Builder?
MI: I do engines for FASTRAK and NeSmith/RUSH. I am also a RUSH Modified repair facility, and I do engines for the RaceSaver Sprint Car Series.
CI: There was been a lot of talk lately about the high cost of rebuilding Crate engines. I've seen prices called out anywhere from $2800 to $7000. Can you comment on that?
MI: $7,000 for professional fees is just wrong. There is no reason why a rebuild should cost more than $5,000. The only way I can see that figure is if someone is including the cost of bolt-on items in the rebuild.
CI: What are the top three things you see racers doing on a weekly basis that rob them of horsepower and could be easily prevented?
MI: Carburetion is huge. If the jetting isn't right, or the float levels aren't right, that will cost power. Fuel pressure is also an issue.
Another thing to look at is the installed heights on the valve springs. I know a lot of guys don't ever check that. I adjust valves for my customers, but this is something that they should check while they prepare their car to race.
Ignition timing is another area. I know guys who hear a tip from their buddy and change their timing. I dyno a lot of engines. I've found the best setting to be within 5 to 6 degrees of 34 degrees. Anything outside of that range will cost power.
CI: There is always talk about the escalating cost of racing and making rule changes to "keep the cost down or save the racer money." As an engine builder, what are your comments on the subject?
MI: Racing is expensive no matter how you look at it. Crate engines already save the racers money. There is not enough compression to tear up engine parts, so the engines last a lot longer. There used to be some problems with the valve train, but GM fixed that. Something could possibly be done with fuel and tires, but there is a fine line. It is better to be open-minded and mindful of where the money comes from to support racing series. Bolt-on items are where most of the power gains come from. It would be a mistake to standardize everything.
CI: What is your view of the future of Crate Racing?
MI: Someday Crates might take over racing series because they are more affordable and reasonable. Crate engines will save a lot of racing series.
Ingram Engines can be reached at 724-545-2663.