Crate Summit Provides the Inspiration for Crate Insider.com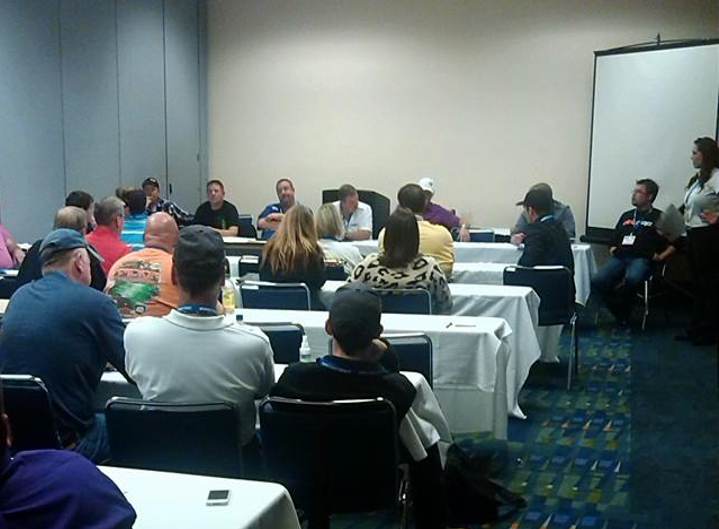 On December 6th, 2013, the Charlotte Auto Racing Show provided a venue to bring all interested parties together to talk about the challenges, issues, and the future of Crate Racing. It was spurred due to discussions that originated on Facebook about the various tire rules of the different racing series within close proximity to one another and how these rules increased costs for racers if they wanted to race with more than one series.
The summit was organized and moderated by CARS Show Director, Kate Dillon. A panel was assembled that included Timmy McAbee (SECA Racing Series), Steve Hendren (Hendren Racing Engines), Mike Vaughn (NeSmith Racing Series), Lennie Buff (Cherokee Speedway), Jason Atkins (FUEL Racing Series), Jimmy Schiltz (Driver), Clint Elkins (Carolina Speedway), and Matt Long (Driver). In addition to the panel, representatives from Fastrak Racing Series were in attendance along with several drivers, promoters and suppliers.
Items discussed included the multiple tire selections among the different series, fuel rules, and making the racing more exciting, to name a few. One breakthrough occurred as Fastrak founder, Stan Lester, offered to allow other series tires at their touring events, provided that the tires were not grooved or siped. While they have since rescinded the offer because other series opted not to reciprocate, it was a start.
"The fact that we were able to gather all of these sanctioning bodies in one room is a victory in itself," stated Kate Dillon. "To have a sanctioning body make concessions to allow the tires from another sanction is much more than we expected. I'm just glad we could help the conversation get started."
Many were surprised that the Summit took place so peaceably. "I offered Kate my gun, just in case," stated Doug McManus, Promoter at Lancaster Speedway, "but everyone behaved."
"After the summit, I recognized that there was so much division within the crate racing industry that there was a big opportunity for someone to bring it all together in one place. The idea grew as it became clear that technical information wasn't readily available that was specifically focused on crates. At that point, Crate Insider was born," stated Dillon.