Daytona 1 Engine Oil Additive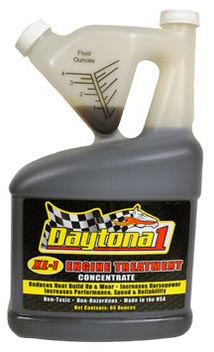 Daytona 1's products are developed by NASA Space Technology Hall of Fame Inductee,
Buck Parker. Parker is an expert on lubrication, especially in applications to reduce parasitic drag. The XL-1 Engine Treatment has been proven to increase horsepower by an average of 6-8 hp in dyno testing. While we focus on the racing application at Crate Insider, this treatment can also be used in street cars to increase engine life. We are so impressed with this product that we worked with the company to find a way to carry it in our online store.
Helps increase engine life
Helps increase horsepower
Helps improve fuel economy
Helps improve overall performance
Helps protect during cold starts
Helps dramatically reduce friction
Helps reduce operating temperature
Helps reduce wear
Helps reduce engine noise and vibration
Helps protect metal surfaces from galling should lubrication be lost
Compatible with most synthetic and mineral-based oils
100% concentrate additive is cleaner
Will NOT void manufacturer's warranty
Dyno Results
The graph below shows chassis dyno testing with a GM 604 engine. The black line is the baseline test prior to adding the XL-1 Engine Treatment. The red line shoes the results with the treatment. In this text, the engine gained over 8 hp and nearly 4 foot pounds of tourque at max power.