Published by Crate Insider on 19th Oct 2017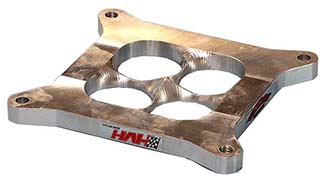 There's a New Spacer in Town!
High Velocity Heads (HVH) is the trusted leader for carb spacers. They are the creators of the original Super Sucker carb spacer. When it comes to Crate engines, HVH offers spacers that are designed specifically for each engine.
While they currently offer a 5/8" spacer for the 604 engine, HVH has just released a new 1/2" version (SS4150-.5AL). Owner Keith Petelle tells us that this new design is the solution for added torque on smaller, heavier tracks. "Our racers have had great success with the 5/8" spacer and it continues to be a great solution for overall performance and horsepower. We've introduced the 1/2" spacer to solve the problem of needing more torque, especially when a track is exceptionally heavy."
The new 1/2" spacer is available in our online store. Click here to Buy!