Humpy Wheeler Endorses Crate Insider and Shares his Thoughts on Crate Racing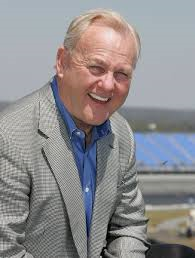 We asked legendary promoter, Humpy Wheeler, to take a look at CrateInsider.com and give us his opinion. What would the famous racing promoter, with experience in the NASCAR world have to say? We were honored that he would even listen to the request. Not only did he look at the website, he shared insights on the Crate racing industry today that many promoters and series directors could benefit from:
"I really like your website. Crate motors have long been a favorite of mine in this epic battle to defeat the terrible cost of racing today. Without them, we would have succumbed to narrow fields, no fans and then…..no tracks.
This terrible cycle in expenses has been going on since 1950. It began when the inexpensive flatheads were blown away by the OHV engines in the mid-fifties, which ripped racing apart. In the sixties, I made my racers run the great Ford and Chevy in-line truck six-cylinder engines which knocked the costs down 75 per cent to build and 300 percent to run a single season.
Then in the seventies and eighties, the performance racing industry was born in earnest for oval racers and costs skyrocketed again. Many hard thinking track operators countered this with the smaller Holley carburetors but, alas, the NASCAR Nationwide and Cup series 358s entered and the birth of the $50,000 engine. This not only decimated the small racer, but contributed to the current terrible lack of passing in feature racing which has virtually knocked oval racing OFF TV. Enter ridiculously wide and soft tires, which racers have always used as crutches, and we lost the three to four passes for the lead that TV and fans loved most.
The crate engines have done a great deal to cut costs, but many track operators and sanctioning bodies either neglect or can't seem to enforce the rules. Also, the terribly expensive, and no reason for shocks, entered the picture and made up for any lost speed and ….again….little passing. Funny, the same shock exists today as Bill Elliot ran 212 at Talladega with and Cale Yarborough won many Bristol races. It used to cost $85 and I believe it is down to $65 in some spots today! You can't monkey much with that shock.
Hopefully, with excellent websites like yours it will help racing get back on its feet by showing racers the true answer is to lower costs.
I recently spent a lot of time watching races from the 40's to the late 90's and was most impressed with the tremendously competitive races we used to have on the nation's short tracks. I watched guys like Foyt, Parnelli Jones, Banjo Matthews, Tommy Hinnershitz and Buggsie Stevens put on some wonderfully competitive shows on tracks like Ascot, Ventura, Devil's Bowl, Terra Haute, Thunder Road, Winchester, Eldora, Reading, Robinwood Speedway (highest banked dirt track in the nation now gone) and Hialeah. I was amazed at both the terrific racing and the beautiful quality of the dirt in those days. I called up my friend Parnelli and asked what was the difference. He retorted: "You ought to know you worked for Firestone (I was director of racing for Firestone for awhile back in the sixties)." He was right…it was a combination of narrow and hard race tires, less horsepower and lack of the chassis sophistication we now have.
The drivers had to drive with their feet! Tracks did not endure the harsh treatment from the wider, softer tires and incredible horsepower so they were less dusty and not nearly as hard to prepare. Drivers could pass back and forth.
Now I am not saying go back to Fred Flintstone and his fast feet! What I am saying is that we are in the entertainment business first, second and third and whatever we need to do to get back the fans we have lost and make new ones we must do for us to have any future.
Forty lap features need at least four to five passes for the lead on both dirt and asphalt or you have no excitement, rivalries or rubbin'. How can you have a rival if he is 100 feet behind you at the end of the race!
And why should that 12 year old future race fan who has been raised on multi-million dollar video games and Pixar movies come back to an unexciting track?
All of this is perfectly curable and the crate motors have been significantly responsible for many of the exciting tracks we have operating today.
But how do we keep them (or their owners) honest?
This is harsh but it is the only way.
1-- Rules must be strictly enforced and miked to the T. If is over, you fail.
2- Prohibited pieces like cams, cranks, heads, etc. are the same way. Run them and you fail.
3- Give no one ANY leeway. When I invented Legends Cars we adopted this and it worked once we figured out exactly what to look for.
4- Put terrible consequences on engine rules violations. First time offense: 30 points Disqualify and loss of engine and all components. Second time offense: 30 points, seizure of engine plus the RACE CAR. Third offense or 30 points. BAN for this and next season. Fourth offense 30 pts. or total of 100 pts LIFETIME BAN (hopefully honored by all neighboring tracks).
Track operators and sanctioning bodies must realize the competitors want to outrace his opponent. That is fine, but keep the pressure on when asked for the many rules changes they come up with (Hey, man, XKL Co. has a new head that will save us lots of money…) Usually that means go faster but if someone does come up with big money savers in the engine dept and many of today's top performance guys are doing just that. We need to look at these ONLY if they SAVE money!
By harnessing the crate motor it becomes the wonderful thing it was intended to be…races will be more competitive and we will have more new drivers come into the sport.
Andy Johnson, a fine fabricator in Mooresville, N.C., has built a superb chassis that is like a metric but with frame rails on the front. AR, Five Star and others have some neat STOCK bodies to fit atop that chassis. Slap the proper crate engine in and you have a terrific looking, inexpensive race car that I really believe you could even run many big tracks like Dover, Charlotte, Darlington, etc., with and for under $25,000. Run this car on dirt and asphalt with those $85 shocks, inexpensive tires (hey, what is wrong with Towel City Retreads?) and maybe we can open the way up for all those poor boy racers who simply are being left out as they climb the LADDER of EXPENSE in racing. That ladder always ends today in defeat because of the terrible expense at the top and so we don't have a Bill Elliot bringing his clan to Rockingham for their first race anymore….or Ricky Rudd with his A.J. Rudd built Chevy to the same track and finishing 10th in his FIRST CUP RACE.
In my 50 years of racing I have learned you can go backwards and make forward progress sometimes."
--H.A. (Humpy) Wheeler