Jones Racing Products Serpentine Water Pump Drive System 1035-S-CE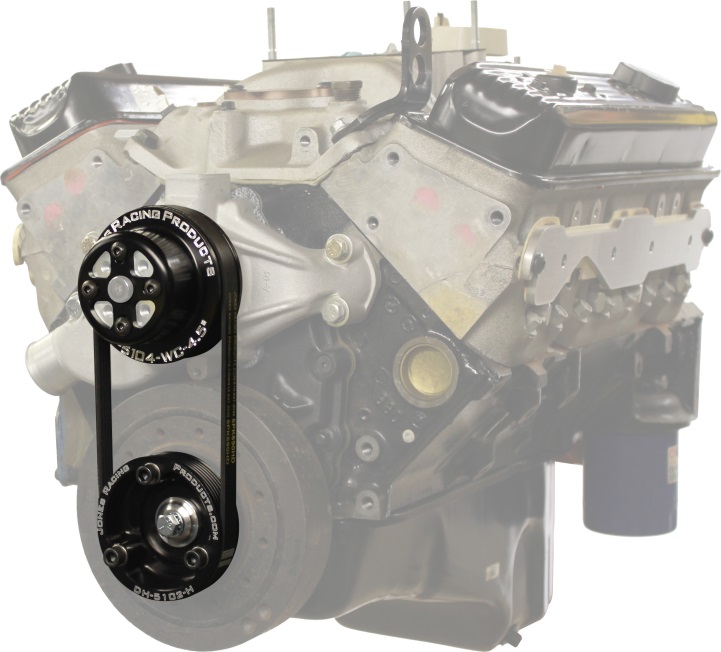 Jones Racing Products, Inc. has released a new lightweight serpentine water pump drive which is designed to optimize cooling and efficiency. They have a variety of ratios available to accommodate all RPM ranges from crate engines up to high RPM built engines. The drive will effortlessly turn a fan while saving horsepower.
Their billet aluminum pulleys reduce harmonics and the load on the main bearings by sitting only ½" from the face of the balancer. This reduces the upward pull on the bearings amplified by the leverage a longer drive creates while keeping a super lightweight rotating mass to greatly decrease the moment of inertia.
Jones Racing Products has maximized the belt engagement surface as well as the contact between the pulley and belt allowing you to run less belt tension, while virtually eliminating belt slip which is caused by the inertia generated from the fan and belt stretch experienced with other conventional drives. In addition, by reducing the belt tension they have also reduced the wear on the bearings, the water pump, the pulleys, and the belt itself. Their manufacturing process produces a perfect match between the pulleys and the belt designs, eliminating any additional idlers. This technology promotes a durable lightweight belt drive for today's horsepower conscious crate racer.
Each kit is sold complete with everything you need: Mounting hardware, black hardcoated serpentine water pump pulley, lightweight one piece crank drive pulley capped off with a billet nut making it easy and safe to turn over the engine for valve adjustment. The kit also comes with the appropriate belt for your engine and ratio, plus a spare belt is included in every Jones Racing Products kit. The drives are pre-configured with the proper spacing and alignment to ensure easy installation.
Jones Racing Products, located in Ottsville, PA, is an industry leader in the manufacturing of belt drive systems and related components, producing their entire billet aluminum product line with the most advanced CNC machinery. All products are manufactured in their Pennsylvania facility from start to finish, having total control over the entire process, from the sawing of the raw bar stock then into the CNC lathes or mills all the way thru the final steps of the laser marking to indicate part numbers and serial numbers. Having the ability to manufacture parts in house gives Jones Racing Products the advantage of keeping every part to exacting tolerances.