New Crate Option for Sprint Cars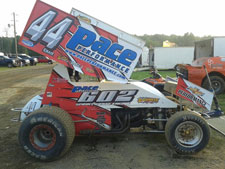 2014 is the first year we've seen sprint cars using crate engines. After further development by Race-1 and Pace Performance, the GM602 engine has been adapted for use in sprint cars and they are making the engine available to a larger audience. We had a chance to speak with Brad Hibbard from Race-1, who told us more:
CI: What are the basics of the new engine program?
BH: We developed this program for Sprint Cars, both winged and wingless options. The engine is the proven GM 602 crate engine, however discussions are in progress for a 604 program as well. Interest has been very encouraging throughout the country
CI: Tell us how the program was started.
BH: A Midwest promoter approached us with some thoughts on a wingless sprint car series that he wanted to start in the Indiana area. We accepted the challenge and worked within our organization and with our associates as a team to come up with a package that was applicable for the sprint car world and still met GM specifications.
Once we felt our package was ready, we sent the completed package off for installation into a sprint car and to do actual field testing. Because of the modifications needed in order to make the engine compatible with a sprint car, some people suggested that we include aftermarket parts. Our team realized that if we modified the internal components of the GM engine, the result would be back to spec engines, not "crate" engines.
We decided to field test our package and the GM 602 engine ourselves in the sprint car application and the result has been overwhelmingly positive. We have even done a tear down to see if any unusual wear or any signs of failure were evident but nothing appeared to be a problem. Another 10 races later, the engine is still competing like it did on day one.
CI: What modifications did you have to make in order to make the engine compatible with a sprint car?
BH: The camshaft is drilled and tapped to accept the rear drive accessories. This is done with custom tooling that we developed specifically for this application so that we do NOT have to break any of the GM security seals.
The standard 8 inch deep oil pan used on the 602 engine just plain will not work in 95% of traditional sprint cars. Rather than looking to the aftermarket, we went to GM and asked for special pricing on the oil pan from the sister engine, the 604, which is a 7 inch pan and works perfectly!!! (A customized seal is used to secure the oil pan and to prevent it from being tampered with after the conversion).
CI: What can a racer expect to pay for the sprint car version of the 602 and what else will he need?
BH: The basic engine ready to go sprint car racing is $4300 for a 602. Accessory packages can be customized for the budget, but the replacement cost of the engine itself will remain the same (prices do include free shipping in the 48 Continental United States).
CI: How does the engine compare with current sprint car engines?
BH: Even though traditional sprint cars are fuel injected, our carburetor version has competed at a mid to front pack position and blends very well with spec sprint car racing.
CI: What has been the biggest challenge?
BH: The desire to keep the engine a 602 crate has forced us to run a carburetor and although the power "numbers" are similar, the drivability and take off of the carburetor vs. injection has made us work hard in the fuel curve department.
We also had some balance and drive flange challenges that forced us to again turn to the folks at Crate Innovations to develop a balanced drive hub for the application which they have now mass manufactured and have ready on the shelf.
Above were are biggest challenges with development but we also had to find some good hearted racers and promoters to let us put this package into real world application to see how it competes off paper and off the watch. It's not theory anymore. We have a great concept that blends very well at a very affordable price.
CI: What is the one thing that people misunderstand the most about your role as a Promoter?
BH: I am the most visible person with this stuff, but I do not consider myself a promoter in any way. I try to answer questions logically and accurately, whether it is for tech, sales or promotions and because I am the one there (visible), I get branded the promoter when in fact I have to rely on my associates for just about everything I do anymore
CI: What is your view/opinion of the future of Crate Racing?
BH: Crate engines give many people the opportunity to do something that they love but could never afford.
We have to train and maintain tech personnel so as to give these people a fair shot at competing.
Keep it straight and it will grow and grow big.