AFCO Introduces New Lightweight Radiator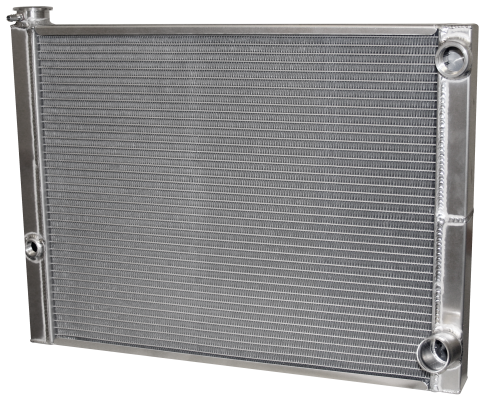 One of the hottest moving radiators on the market for both Dirt Late Models and Modifieds is AFCO's new lightweight radiators that use 1.5" thick cores. These feature a thinner one row core over the same cooling contact area as a standard double pass radiator. Because of the thinner core, they have higher air flow across the radiator which gives you better cooling.
These radiators will cool as good or better than a standard radiator while shaving 11 pounds off the front of the car. 11 pounds off the front of the car allows you to move more weight closer to the center of the car, improving handling, and speeding up lap times.
These radiators are available with standard 1.50", -16 male, -20 male, and -20 female universal inlets, a standard 1.75" outlet, and come in 19x27.5 and 19x26 sizes. All of the radiators retail for $299.99.
According to driver Ricky Weeks, he switched to these about 4 weeks ago and said it fixed every cooling problem he has had all season long. Best radiator he has ever used bar none!
The 19x27.5 version for Dirt Late Models is available here: AFCO 80185 Lightweight Radiator for Dirt Late Models
The 19x26 version for Modifieds is available here: AFCO 80184 Lightweight Radiator for Modifieds